Naymote Hosts a Project Inception Meeting in Gbarnga

Our institution, Naymote Partners for Democratic Development had an amazing Project Inception Meeting today, 6th July, 2021 at the YMCA of Liberia Gbarnga Youth Center in Gbarnga, Bong County.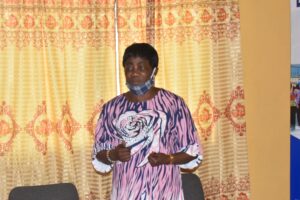 The meeting was graced by Bong County's Superintendent, Hon. Esther Walker, members of the Bong County's Project Management Committee (PMC), and the County Accountability and Advocacy Team (CAAT).
Participants expressed delights about the meeting and the project as well as promised to work with us throughout the implementation of the project timeline. "My office is open to working with Naymote and all civil society organizations working in Bong and I welcome this project because I believed it will help to deal with some of the misinformation surrounding the County budget." Supt. Esther Walker