— Says young people represent a huge percentage of registered voters
Daily Observer edition of 07/04/2023
https://www.liberianobserver.com/liberia-naymote-concludes-democratic-accountability-electoral-integrity-forum
As Liberia prepares to conduct its legislative and presidential elections in October, Naymote Partners for Democratic Development concluded a one-day forum on national youth dialogue on democratic accountability and electoral integrity in Monrovia.
The forum, which took place at a resort in Sinkor, brought together 65 young leaders in politics and civil society from across Montserrado, Nimba, Bong, Grand Bassa, Margibi, Grand Cape Mount, and Bomi Counties with the objective of strengthening young people's understanding of the various frameworks and mechanisms in place to contribute to a peaceful electoral process and to hold political leaders accountable.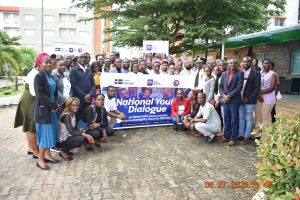 Eddie D. Jarwolo, Executive Director of Naymote, who spoke recently at the start of the forum, indicated that the upcoming election is a critical moment for the country's democratic consolidation, with political observers closely watching whether Liberia will continue its progress toward democracy or regress towards exploitative governance models and impunity.
Jarwolo added that the young people represent a huge percentage of registered voters, where they can make a difference through votes, and which can determine the winners and losers of this year's elections.