Non-Governmental Organization of the year 2020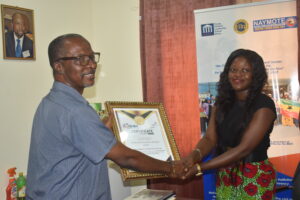 Naymote Partners for Democratic Development has won GNN NGO of the year; its committed contributions during the year under review to the development of the country's democratic value has made many to submit its name as our NGO of the year.
Its vision for 2020 as a leading national capacity building institution advancing democracy and good governance in West Africa with innovative programs for young people who are making long-lasting positive impact in society also gave rise for its nomination and selection.
NAYMOTE's recently introduced 'President Meter Project' aimed at improving public accountability and transparency in the management of the country's governance processes under the CDC-led government has been captured by many who finds this initiative by NAYMOTE as very impressive.
Accordingly for the last two years, January 2018 to January 2020, the institution has tracked and rated 92 promises of which 7 promises were completed constituting 8%, 38 promises are ongoing constituting 41%, and 47 promises have not started or not rated constituting 51% due to the lack of information to assess progress made towards implementation. This tracking was undertaken against the assumption that citizens care deeply about whether their government has followed through on what it originally promised. This independent assessment provides citizens the tools to cut through the misinformation that so often plagues political discourse surrounding the status of government programs and processes. Please read the PMP two years report here.
NAYMOTE also has a Youth Legislative Policy Dialogue to promote the culture of legislative openness and responsiveness in Liberia. Over 1000 youth leaders across Montserrado, Grand Bassa, Margibi, Bong and Nimba Counties participated in 30 dialogues held since 2018 and 30 lawmakers attended and spoke at these events. Young people are actively engaging in legislative advocacy, lawmakers are hosting town hall meetings, producing annual legislative reports to their constituents because of the opportunity provided them through these dialogues.
It was through these dialogues, the institution realized that young people needed to deepen their understanding of the workings of the Legislature to be able to hold their elected officials accountable which led to the development of the legislative advocacy handbook. The Legislative Advocacy Handbook is educating citizens on the workings of the legislature and providing them effective advocacy strategies.
Like the President Meter project, the institution is monitoring and tracking 12 lawmakers' campaign promises across five counties; Montserrado, Bong, Nimba, Grand Gedeh and Rivergee. During the first year in 2019, the institution identified, monitored, tracked and rated 97 campaign promises from the 12 lawmakers, of which, 10 are rated completed, 65 promises are ongoing, 9 promises have not started and 13 campaign promises are not rated due to lack of available information. Among the 10 completed promises, community roads, bridges' rehabilitations and construction of town halls accounted for 6 of those completed projects, while the formation of district development councils accounts for 3 promises and the construction of one health center accounts for 1 of the many promises.
With all of these initiatives, and to adequately alerting the people of working of the government, many lauded NAYMOTE for such initiative and subsequently submitted it to be our NGO of the year.