Monrovia – The Liberia National Police (LNP) Commissioner for Training and Man Power Development, Dao R. Freeman has called on Liberians to put their difference aside in this post elections era and come together to move the country forward.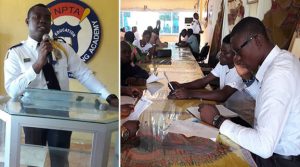 Speaking to reporters at the end of a one day peace building and conflict resolution workshop at the Police Training Academy in Paynesville on Thursday, February 8, Commissioner Freeman noted that it is only in a peaceful environment that Liberians can maximize their potentials.
"And going forward, let us leave aside our individual differences, our group differences and let us make Mama Liberia our priority agenda. Let us put Liberia first above any other thing."
" Any other thing that will hinder and destroy the interest of Mama Liberia must not be put on the agenda," Commissioner Freeman said.
He lauded Liberians for their cooperation and the orderly manner they conducted themselves before, during and after the 2017 Presidential and Legislative Elections.
He admonished citizens to continue their collaboration with the Police, noting "The Police are here to provide protection for you. We are your children and we are not your enemies."
The Liberia National Police have received plaudits both nationally and internationally for their tolerance and professionalism exhibited during the 2017 electoral process.
But the LNP Commissioner for Training and Man Power Development attributed their success to the peaceful posture of the citizens throughout the electoral process.
He thanked major civil society groups such as the Open Society Initiative for West Africa (OSIWA) and the National Youth Movement for Transparent Elections (NAYMOTE) for their partnership with the LNP in creating awareness on peace building, conflict resolution and anti-electoral violence among the voting populace.
"They were the two institutions that supported this program along with the LNP. We also thank NAYMOTE who made it possible for the successful implementation of these training and seminars. NAYMOTE played a huge role throughout the electoral process," he averred.
He workshop was intended to gathered feedback from the Peace building and conflict resolution program which was launched in May, 2017; declaring that the initiative was all about bringing young people from different political parties together, along with Police officers to sit in the same environment to design strategies for mitigating electoral violence.