The Chairperson of the National Elections Commission (NEC) has officially unveiled and launched the three Symbols of the three propositions of the 2020 Referendum in Ganta, Nimba County, on October 5, 2020. 
The Symbols will appear on the December 8 National Referendum ballots papers to help voters to decide on the three Propositions on election day.
The three propositions are: Dual Citizenship for Natural Born Liberians; Reduction in Tenure for Elected Government Officials and Change of Election Date from the Raining Season in October to the Dry Season in November.
Proposition #1 is represented by two passports for YES and one passport for NO.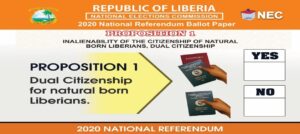 Proposition #2 is represented by a small chair for YES and a big chair for NO.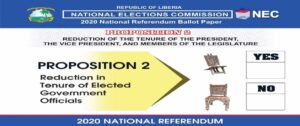 The NEC Chair, Davidetta Browne Lansanah, told the audience that "the day has come for the entire Country to see and get to know what these symbols mean and represent. The NEC Boss said, after a long and meticulous process of vetting these symbols with stakeholders across the country, the Board of Commissioners have approved them as the official voting symbols for the 20202 National Referendum".
She said the symbols would best explain the three propositions in the simplest of terms to everyone and encourage the participants to be good Ambassadors and spread the information to others that would require it. She added that "there will be a robust awareness outreach and media engagements in all of Liberia's vernaculars to help get the rightful information to the voters about the upcoming Special Senatorial Elections, By-Elections in Montserrado and Sinoe and the Referendum on December 8, 2020".
At the close of the official launch, there was a marathon parade in the principal street of Ganta, led by the NEC Chairperson and fellow Commissioners, along with the participants. Later, the Commission opened a three-day working session for the various stakeholders over the three days. 
The stakeholders were traditional leaders, who came in on the first day October 5, 2020. They were followed by Commissioners and County Officials on days two and three, respectively. 
The Commission will on Monday October 12 begin the second round of the stakeholder engagement on the awareness on the Referendum Symbols. The three-day consultation will bring together Political Parties, Civil Society Groups, and the media, among others.