Naymote Partners for Democratic Development has launched a new program called Women Campaign Fellows in Monrovia.
The initiative, which took place on Friday, July 14, is intended to contribute to the inclusive, credible, and peaceful conduct of the electoral process through active young women's civic engagement and enhancing political knowledge.
It was held under the theme "Increase the number of women elected in the legislature by 2023." The program, which is being supported by the Embassy of Sweden in Liberia, is expected to run from July 15 to October 5.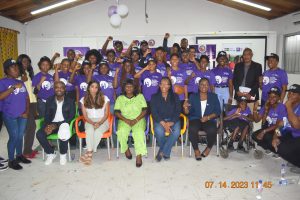 However, the program will also provide an opportunity for twenty-five (25) young women who are alumnae of the Young Political Leadership School Africa and mentees of the Young Women Mentorship and Leadership Program to practicalize what they have learned on campaign planning, grassroots organizing, and advocacy during the electoral process to help female candidates win and ensure that women's participation counts.
UN Women country representative Comfort Lamptey, who launched the program, inspired the Fellows to work towards getting a better result for women in the 2023 elections and to learn all they can from this experience.
https://www.liberianobserver.com/liberia-naymote-launches-women-campaign-fellows-program-elections