Charles Lawrence, Program Officer for Democratic Governance and Human Rights at the Swedish Embassy-Liberia emphasized the importance of empowering young women and promoting democratic values in Liberia. Lawrence acknowledged the significant progress made by Naymote-Liberia in raising awareness about voters' rights and civil education among the youth.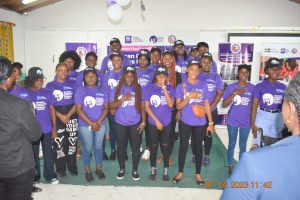 Furthermore, he highlighted the positive impact that Naymote-Liberia's initiatives have had on strengthening democratic governance in Liberia. Lawrence expressed his admiration for the dedication and hard work demonstrated by the young women fellows, recognizing them as future leaders who will contribute to a more inclusive and prosperous society.
In reaffirming the Swedish embassy's commitment to Naymote-Liberia, Lawrence assured that they would continue to provide financial assistance, technical expertise, and resources to support their ongoing projects. He stressed that this partnership is crucial for fostering sustainable development and ensuring a vibrant democracy in Liberia.
Lawrence concluded his remarks by commending Naymote-Liberia for their tireless efforts in promoting civic engagement and empowering marginalized communities. He encouraged them to remain steadfast in their mission, assuring them that they have a reliable ally in the Swedish embassy as they continued.