The headquarters of Naymote Partners for Democratic Development in King Gray, Paynesville City, is now fully-powered by solar energy, thanks to the support of the government and people of Sweden through its Embassy near Monrovia.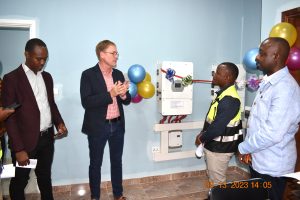 The solar panels, on the roof of the building, generate electricity, which is stored in lithium-ion batteries and supplied throughout Naymote's building to keep it functioning. It will help to address the power challenge that the organization has been enduring over the years. It will also help to reduce its reliance on the national grid operated by the Liberia Electricity Corporation (LEC) and the expensive fuel for electricity generation.
This move has not only reduced costs for the organization, but it has also helped to mitigate the impact of its operations on the environment by reducing carbon emissions and air pollution, stakeholders said at the solar panel dedication ceremony on Wednesday, September 13.
https://www.liberianobserver.com/liberia-naymote-dedicates-solarized-headquarters